Suffering a data breach doesn't mean your organisation is poorly run. While it's crucial to have network security and internal systems in place to keep your business protected, cybercriminals are incredibly advanced. Some of the biggest organisations in the world fall prey to data breaches, as we'll show you today.
This information comes from Have I Been Pwnd (HIBP), a website that has recently partnered with the Australia Cyber Security Centre (ACSC). By identifying breaches and showcasing the breadth and scale of them, both bodies hope to keep Australians up to date with the latest in data security. How many of these breached companies do you recognise?
1. Adobe
The software giant, primarily known for its design products, suffered a massive breach in 2013. This saw hackers gain access to information on 153 million accounts, including encrypted passwords.
2. BitTorrent
Even if you haven't downloaded using P2P torrents, chances are you've heard of the big-name downloading clients – with BitTorrent chief among them. In January 2016, forums for the software suffered a data breach, which led to more than 34,000 users having email and IP addresses compromised.

3. Coachella
Coachella is arguably the biggest music festival in the world, which perhaps made it a prime target for malicious cybercriminals. In February last year, hackers took nearly 600,000 records from both the festival website and its associated forums, before trying to sell them online.

4. Dominos
Cybercriminals use leaked information in many ways. In the case of Domino's in France and Belgium, hackers accessed 648,000 records in their network and tried to hold the company to ransom or they would release the information publicly. Domino's didn't pay up, and the data was released six months after the June 2014 breach.
5. LinkedIn
One of the larger hacks on this list, more than 164 million LinkedIn users had their data compromised in 2012. However, these email addresses and passwords weren't marked as breached until May 2016, when the data popped up for sale on the dark web.

6. Kickstarter
The renowned crowd-funding site suffered a data breach in 2014, which impacted some 5.2 million unique email addresses. While personal financial details were kept safe, usernames and salted SHA1 password hashes were revealed, which can compromise other accounts with the same information.
7. Snapchat
Snapchat somewhat built their own demise in 2014. HIBP notes that shortly after the company stated a brute force attack on their database was theoretical, hackers did just that and accessed 4.6 million users' names, locations and even phone numbers.

8. Myspace
Another case of delayed selling of information, this time eight years later. In 2008, cybercriminals breached MySpace's security and gained the emails, usernames and passwords of a whopping 359 million users. It wasn't noticed until the information was put up for sale in May 2016.

9. Sony
A household name, whose hack is already household knowledge. In 2011, everything from Sony Pictures through to the PlayStation Network was compromised due to an SQL injection weakness. At 37,000 accounts breached, it is one of the smallest breaches here in number of records, but one of the most widely reported.
10. Vodafone
This breach occurred in Iceland but shows how even trusted names in tech can unwittingly leave you exposed. In 2013, hackers got everything from credit card details to passwords to SMS messaging histories for some 56,000 users.

Has your email address been pwned?
Have I Been Pwnd (HIBP) is a platform that allows you to check if your email address has been part of a data breach. With millions of email addresses stolen over countless data breaches, if you've used the same email address for several years, there is a fair chance it has made it onto a hackers list or two. Check your email address here.

It can happen to anyone – so everyone should be prepared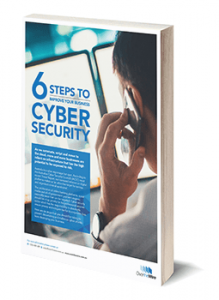 It's important to note that data breaches can have a widespread impact. The ACSC notes that interdependencies between systems or shared cloud vulnerabilities can mean that when one attack strikes, multiple organisations can suffer.
This means your data security has to be thorough, widespread and constantly evolving. To get you started, you can learn about six things you can do right now to help protect your business from a data breach today by downloading our white paper, 6 Steps to Improve your Business Cyber Security.
For a more in depth look at network security you can learn more about Over the Wire's managed security solution, Edge Security Protection, our advanced firewall solution. To see how your business can benefit, get in touch with the team at Over the Wire by completing the form below.