Visibility. Flexibility. Control.
SD-WAN simplifies the management and operation of a WAN by abstracting the complexity of network connectivity and control from its centralized management.
A key application of SD-WAN is to build high performance, secure WANs using a variety of transport links. The global hype surrounding SD-WAN has been appropriated, sometimes confusingly, by technology vendors across WAN optimization, link bonding and router technology, so it is essential to work with an experienced, unbiased partner.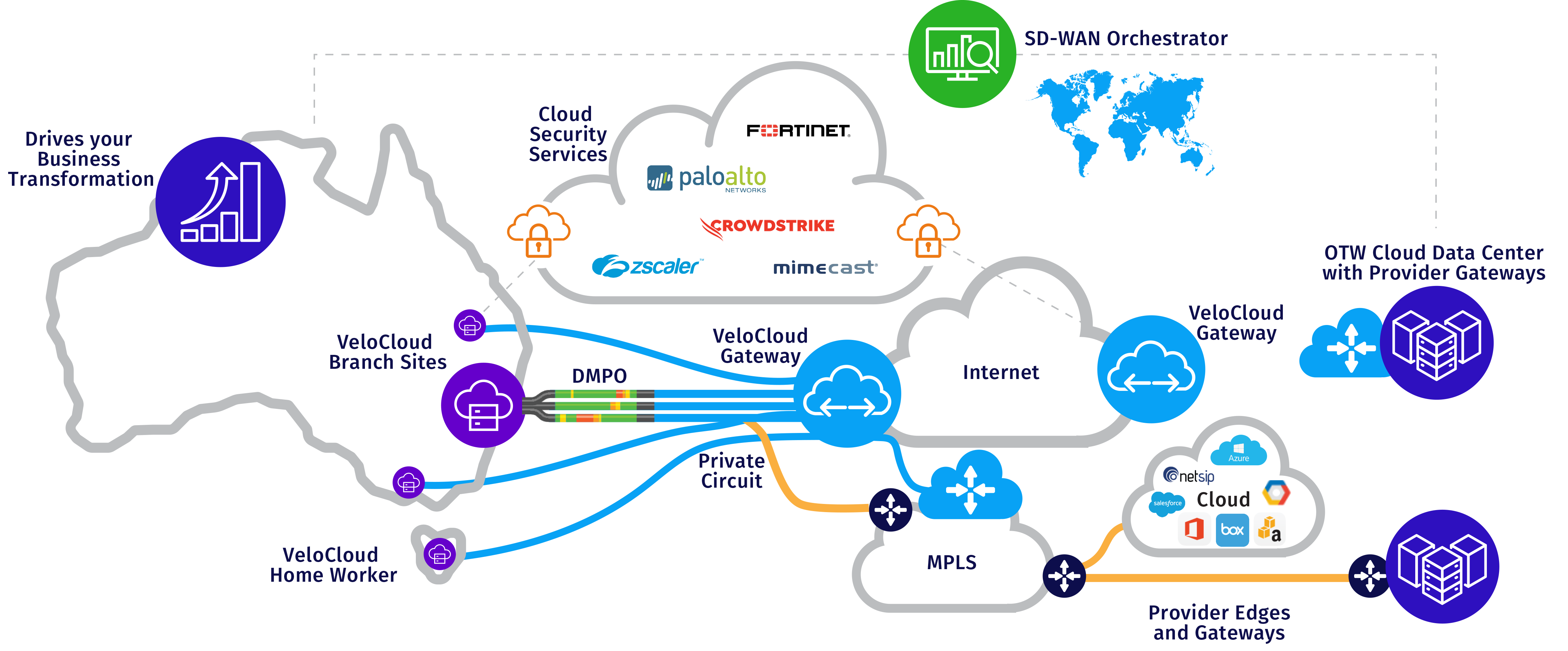 Over The Wire can help you select the right SD-WAN vendor technology with the following core capabilities as a priority:
Centralised orchestration
Deploy over existing network infrastructure
Steer WAN traffic across multiple links according to network conditions
Low-touch, rapid provisioning
Replace branch routers
Provide integrated security and other services with service chaining
Deliver effective, virtual Quality of Service (QoS) even across the public Internet
SD-WAN is no longer bleeding-edge – GlobalData research (August 2020) shows that almost 60% of Australian businesses with more than 200 employees have already adopted SD-WAN and 33% are considering implementing it in the next 12 months.
In contrast to MPLS networks, SD-WAN reduces network costs, allows for greater agility, and rapid deployment – the technology allows you to quickly spin up new environments so you can respond to ever-changing business demands rapidly. For example, think about retail branches quickly gaining secure access to applications and collaboration tools using existing internet links, supported by a 4G broadband internet service. Or consider centralised orchestration ensuring continuous alignment with business policy across the entire network.
Don't let your network be the boss of you
Software Defined Wide Area Networking (SD-WAN) and its associated efficiencies, is being embraced by Australian enterprises as an MPLS (multiprotocol label switching) WAN alternative. Expanding on the traditional IP-VPN WAN model, SD-WAN architecture creates a private bridge between multiple connections over a public internet link.
At Over the Wire, we've always been at the forefront of network technologies. We excel at deploying and managing WAN solutions on behalf of our customers. Whether your ideal network is private, software defined or a hybrid WAN of the two, we have the team of dedicated, local professionals to help you achieve your goals.

Leverage the sum of the parts to make a greater whole.
Visibility and remote monitoring are kings in an SD-WAN. With real-time monitoring, WAN traffic visualisation, and exceptional reporting tools, you'll start to see all uses and branch offices within your business WAN in high definition.
High definition reporting
Connect quickly to your SD-WAN, without a hassle. Whether you're adding a new data link to upgrade bandwidth or a whole new site as your branch office network grows, adapting SD-WAN to your real-time requirements is easy.
Connect quickly to your SD-WAN, without a hassle. Whether you're adding a new data link to upgrade bandwidth or a whole new site as your branch office network grows, adapting SD-WAN to your real-time requirements is easy.
SD-WAN Explained
Our website's SD-WAN FAQ is full of information. If you have a specific question, please let us know – we will be more than happy to respond. If you would like to learn more about Over the Wire SD-WAN, please email us.
What is software defined networking or SD-WAN in simple terms?
SD-WAN Overview
According to Gartner, SD-WAN solutions provide an alternative to traditional WAN routers and are agnostic to WAN transport technologies. Software defined WAN should provide dynamic, policy-based, application path selection across multiple WAN connections. It should support service chaining for additional services such as security.
From our perspective, Software Defined Wide Area Networks (SD-WANs) are intelligent networks that adjust dynamically to your network conditions and use software abstraction to build an enterprise-grade network using any underlying WAN connectivity. By pulling the network intelligence into the software, SD-WAN solutions can monitor the underlying network's availability and performance. This enables the SD-WAN to identify the best link for each application in real-time. Prioritised application traffic travels over the best available network link to deliver a fantastic user experience.
What is the difference between MPLS and SD-WAN?
For the last 15 years in Australia, multiprotocol label switching (MPLS) technology has been the standard for corporate WANs. An MPLS WAN provides private, secure, quality-assured data networks by connecting private links to configured router hardware. Data does not touch the public Internet but travels over a service provider's private backbone with lower contention ratios. Because of this, an MPLS WAN delivers predictability for enterprise application traffic with fixed, private network connections between their data centres and branch offices. An MPLS WAN is designed, delivered and managed by a single provider and invoiced on one bill. Provisioning, and any WAN configuration changes, are reliant on the telecommunications provider.
MPLS networks have typically been built around a hub and spoke network architecture, where users sit in branch offices and connect to their applications in the datacenter. In recent times we've seen the proliferation of cloud based computing and remote working pushing users and their applications beyond the corporate network perimeter.
There could still be a good case as to why you should retain your MPLS WAN. But suppose you have moved your business-critical enterprise applications to the cloud or have integrated network security service requirements for remote users and sites? In that case, it's probably time to make some changes to your WAN infrastructure and consider SD-WAN or a hybrid WAN.
SD-WAN enables organisations to deliver the best possible user experience by leveraging local internet breakout in combination with cloud security services to provide high-speed access to cloud based services such as Office 365, Salesforce, Microsoft Azure and Amazon Web Services (AWS).
SD-WAN is more than merely a replacement for MPLS and represents a new network paradigm that will enable your wide area networking (WAN) transformation, delivering far greater value than just a like-for-like replacement of your legacy MPLS WAN.
What are the benefits of SD-WAN?
Software-Defined Networking in a Wide Area Network, or SD-WAN, is one of the most disruptive network technologies available today and will let you take back control of your wide area network (WAN). It's more flexible than MPLS WAN, well-suited to a distributed workforce and offers a resilient and scalable way to cloud-enable your business. Deploying SD-WAN will give you many business benefits:
Fast deployment
With zero-touch provisioning, it's less expensive and time-consuming when connecting new branch operations to your SD-WAN network. They will automatically become part of your virtual enterprise networks.
WAN agility
Adapt your SD-WAN technology quickly to rapidly changing business conditions.
Consistency
Centralising configuration in the cloud avoids the problem of snowflake appliances.
SD-WAN Integrated Security
Zero-touch deployment of robust, secure features at the SD-WAN edge and easily apply network security service policies throughout all branch locations of your SD-WAN.
Quality application performance
Centrally manage the prioritisation of latency-sensitive application data packets and optimise the use of all network connections (application-aware routing). You control your physical SD-WAN links and can make changes without the need for complicated configuration and engineering.
Monitor Application Performance
Complete visibility of application performance and users across your SD-WAN. Monitoring software is at every site on the network, with centralised reporting.
Multi-site friendly
Centralised orchestration of branch office networking means you can quickly implement policy changes across all remote devices within your SD-WAN branch network at once through centralized management.
Over the Wire is ideally positioned to help you solve your complex IT and Telecommunication challenges. We are a cloud technology business, providing secure voice and SD-WAN solutions to organisations across Australia, enabling you to focus on your core business. Follow us on LinkedIn.
Why will demand for SD-WAN increase as a result of the rise in remote working?
Agility, business continuity, video conferencing, collaboration tools and the ability to keep your corporate data secure when supporting remote working are today's fundamental requirements for most corporate WANs (wide area networks).
According to a report published in June 2020 by Futuriom Research (SD-WAN Growth Report: Market Poised to Accelerate), 65% of IT professionals said that COVID-19 accelerated their need to look at the use of SD-WAN technology in a WFH environment.
https://www.futuriom.com/articles/news/2020-sd-wan-growth-report-sd-wan-market-likely-to-accelerate/2020/06
For organisations who have adopted software defined-WAN cloud-first network architecture, making dynamic changes, such as enabling remote working, to their network is simple. SD-WAN technology delivers the agility, flexibility, cost and application performance you need to keep every single part of your business and your business-critical applications connected. Wherever they may be.
What are the top business outcomes that can be gained by modernising your traditional WAN architecture?
Are you looking to fast-track your digital edge?
SD-WAN provides far greater value than just a like-for-like replacement of your legacy MPLS. SD-WAN is a long term strategy, supporting the needs of businesses looking to simplify branch office networking, increase the use of cloud-based services and adopt remote working.
Simplify cloud connectivity
Ensure application performance
Strengthen your wide area network (WAN) security posture
Increase your WAN resilience
Have many Australian businesses have implemented SD-WAN?
Even before lockdowns and remote working became the norm, market adoption of software defined WAN networking, or SD-WAN, was picking up a pace in Australia. Frost & Sullivan published a survey of Australian businesses in 2018/19 that estimated 33.7% of the respondents have already deployed/deploying and 51.7% considering to deploy in the next 2 years. (Australia SD-WAN Market Enterprise Survey, 2018/19)
More recent SD-WAN research published by GlobalData in August 2020 found that enterprises are adopting SD-WAN faster in Australia than in other countries. SD-WAN speed of adoption is being accelerated as businesses move to the cloud where the underlying wide area network's (WAN) architecture is important. Nearly 60% of Australian enterprises with more than 200 employees have already adopted SD-WAN technology, and one in three are considering implementing SD-WAN in the next 12 months. Cost savings, solid user experience, better security policies and network management are perceived to be the key benefits of SD-WAN network performance.
How will SD-WAN support my shift to the cloud?
Your company is moving to the cloud, whether that be voice, CRM, ERP, finance or all of the above. Many businesses now have a cloud-only stance, with most core business software platforms being delivered with a cloud-first mindset. It is expected that, in a couple of years, the majority of applications will be in the cloud.
Avoiding vendor lock-in and being able to use best of breed solutions are two key benefits of this multi-cloud world. But it's Shadow IT that will most likely drive the need for your business to adopt a multicloud strategy. Don't underestimate the number of cloud services that are being used by the business units within your organisation, without the knowledge of your IT department. As more and more applications transition to the cloud your I.T department may not be aware how many services are being utilised without their knowledge. For this reason you need to be able to leverage a multi-cloud world.
Over the Wire SD-WAN lets you do this, wherever your business units are located. Our SD-WAN solutions provide high-performance access to critical cloud applications, and its advanced knowledge of applications and network requirements optimises WAN traffic and data paths for the best user experience possible.
How does SD-WAN enable hybrid cloud?
Many organisations are leveraging on-premise data centers alongside public and private cloud resources to optimise their workloads. SD-WAN improves user experiences in a hybrid cloud world by allowing branches to connect directly to the cloud and data center, avoiding network hair-pinning.
Should I use SD-WAN for cloud to cloud connectivity?
Whilst SD-WAN has transformed the way organisations connect branches to their data center and cloud workloads, SD-WAN is not a replacement for Data Center Interconnect (DCI) or multi-cloud routing platforms. SD-WAN focuses on securely branch networks over a variable underlay network where DCI solutions focus on high-speed interconnection between data centers and the cloud.
Can I leverage cloud connects with SD-WAN?
Absolutely, one of the advantages of Over the Wire's service provider SD-WAN model is that cloud connect services such as Azure ExpressRoute and AWS Direct Connect can be integrated seamlessly into the SD-WAN environment using our service provider SD-WAN gateways that are deployed in data centers alongside the major cloud providers.
This avoids organisations having to take space inside data centers and hairpin traffic to utilize cloud connect services.
How can I keep my SD-WAN environment secure?
WAN transformation brings with it the need to change our thinking around how we secure our users in the new distributed world that SD-WAN enables. SD-WAN provides additional security capabilities beyond the traditional enterprise WAN such as end to end encryption and segmentation over every link. Over the Wire's SD-WAN solution provides a flexible framework to deliver network and user-level security controls to meet organisational security requirements.
Increasingly customers are leaning towards a SASE approach, and leveraging cloud security services such as Zscaler to provide ubiquitous security for their users regardless of where the user is connecting from. This enables organisations to gain the benefit of local internet breakout within their SD-WAN environments, without having to compromise on securing their users or backhauling their traffic via a data center.
Ultimately SD-WAN security needs to form part of an organisation's broader security strategy. Over the Wire has partnered with leading cloud security vendors such as Zscaler, Mimecast and Crowdstrike to provide a broad suite of security capabilities to meet customer requirements.
What is Zero Touch Provisioning?
Zero Touch Provisioning (ZTP) is a technology that SD-WANs use to automatically set up a network SD-WAN appliances with minimal user interaction, typically by pulling configuration from the cloud. This has the effect of speeding up the deployment of SD-WAN appliances as the WAN edge hardware does not need to be pre-configured by a highly skilled engineer before being sent to the site.
Which style of SD-WAN management is best for you – Fully Managed, Co-managed or Over The Top?
We'll work with you to figure out how we can simplify your journey to the cloud. Depending on your in-house resources, we have different software-defined wide area network (SD-WAN) management models to suit your IT requirements: Fully Managed, Co-managed or Over the Top SD-WAN services.
All of our SD-WAN network services management options can combine different connectivity options from multiple telco vendors. You can directly connect to top cloud based services and business-critical applications. Best of all, you can manage your SD-WAN from one portal.
What are the benefits of working with Over the Wire?
We are Networking connoisseurs.
We've invested in world-class platforms, and we know precisely which wide area network (WAN) market solutions are best in the market, so we know which will make the most sense for our varying client needs. Our mission is to empower you to be aspirational and focus more strategically on your business while we take on your technology requirements and deliver you value relentlessly.
Listed on the ASX (ASX:OTW), we are a telecommunications and IT services company, who empower businesses through our core pillars: Cloud. Connect. Collaborate.
Cloud - Cloud computing is the new norm. We support our customers on their journey, from private to public cloud and anywhere in between.
Connect- Networks are the backbone of the digital economy. We're experts at leveraging intelligent networking to support our customer's business objectives.
Collaborate - We know voice. Our NETSIP platform powers voice solutions for everyone from small business through to enterprise and global UCaaS providers.
We partner with customers to tailor solutions specific to their business objectives. You can trust that our expert staff will support you 24/7.
We'll give your network a boost.
If you're planning a digital transformation, you need a partner to rely on for cloud networking performance. OTW offers flexible SD-WAN options to meet the demands of a contemporary business.
We combine cloud security, flexible management options and give you the control to dynamically manage your WAN optimization, all underpinned by market-leading SLAs.
As an independent service provider of SD-WAN solutions in Australia, Over the Wire is your ideal partner for reliability and business continuity. We offer various service options from full turnkey management, through co-management to an overlay with customer oversight.
We will custom design your SD-WAN solution, based on our extensive portfolio of capability. We'll manage multiple vendors, carriers and technologies on your behalf, and our expert support team is always available 24x7 should you need them.
We have Eyes. And they are everywhere.
We have end-to-end visibility of our SD-WAN solutions, and we use this latest networking trend to deliver the agility, flexibility, value and performance that today's corporate WAN requires.
What are the Top 5 reasons I should partner with Over the Wire for my SD-WAN solutions?
We've done the hard yards
Since 2007, Over the Wire has helped thousands of Australian businesses, differentiating itself with excellent customer service, and technical expertise, resulting in remarkable customer retention. We make partnering easy for our clients by offering complete IT & Telco services under one roof including data, voice, cloud, security and managed services. Here are the top 5 reasons to partner with Over the Wire for your SD-WAN solution:
1. You can choose which SD-WAN management model is right for you: Over the Wire understands that each organisation will have different goals as they seek to adopt an SD-WAN. We provide flexible SD-WAN management options including self-managed, co-managed or fully-managed depending on how much control you want of your network.
2. We are a cloud-technology business: We provide secure voice and data network solutions to organisations like your across Australia. That means you can focus on what you do best - your core business.
3. We love a challenge: Bring.It.On. Solving complex IT and Telecommunications challenges happen to be our forté.
4. We've got your back: We've grown from our original roots in Brisbane to become a national force. We're ASX-listed and probably the largest IT&T service provider that you've never heard of. We truly believe that we have what it truly takes to become an icon within our industry. We're working hard to differentiate ourselves, and believe that the way to capture people's attention is to go beyond their expectations and deliver a solid user experience.
5. We are a Managed Services Provider with a Telco-heart.
But this is not about us, it's about you.
We partner closely with your team and manage your technology environment as a single point of contact so you can focus on running your business more strategically. Our end-to-end solutions cover everything from fast and reliable private data, internet access, voice networks to data centre cloud hosting, SD-WAN, and IT security. From head office to your branch offices, we've got your WAN connectivity covered.
I'd like to find out more about SD-WAN – what are my next steps?
We recommend that you start with a network audit and consultation with Over the Wire. Then we can take a look at your SD-WAN options from there. We will work with your IT team to perform a proof of concept so that you can see the technology within your environment.
We'd love to kick things off with a chat on the phone or a video call. But we would equally be delighted to meet you for a cup of coffee if you're up to it. Our team are conveniently located across the country, so we'd be happy to come and see you.
Let's get this show on the road
The best way for us to show you how SD-WAN will benefit your business is to demonstrate the real impacts of this state-of-the-art networking innovation in action at your organisation. Our free 30-day proof of value will provide your team with hands-on experience and a real-life demonstration of how SD-WAN can simplify your network, transform your user experience and power your cloud journey.
No upfront costs. No strings attached. No worries.
30-day trial with no obligation to purchase
Includes hardware and licences
Test up two sites to evaluate our network
Setup and management support included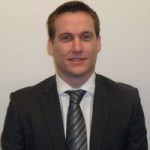 Working with Over the Wire we're now able to provide a great experience no matter where people are.
Marcus Barron
General Manager - Technology
National Storage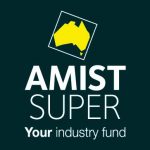 Over the Wire has been responsive to our needs. They have designed and implemented solutions that consider the size and complexity of business which includes legislative oversight. The service desk people are easy to deal with and talk our language.
Chris Matthews
Operations Manager
AMIST Super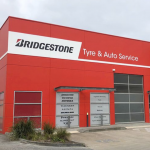 I have been extremely happy with Over the Wire. Very friendly and helpful staff.
Travis Jenkins
Director
Bridgestone Select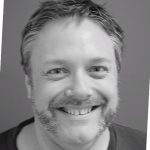 Simply outstanding reliability & support. The helpdesk staff are highly skilled technicians – you get to talk directly to the person who will resolve your issues. Issues get resolved in mere minutes not days or weeks.
Dan Pedersen
ICT & Quality Assurance
BRS Electrical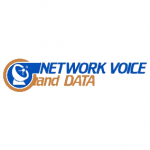 Great support. Friendly professional staff with technology that works.
Sam Scafe
Senior System and Network Administrator
Network Voice and Data
Our Happy Customers
With our focus on our customers, we've been proud to have industry-leading retention rates consistently over 95%. Learn more about what makes us different.