One foot in the grave for traditional telephony in Australia; even with a last-minute extension to the disconnection commencement date, 30 September 2019 is only just around the corner.
Since the ramp-up of the NBN roll-out, disconnection has been looming over ISDN services – the main phone lines still used by the majority of Australian businesses. With the cease of sale having come into full effect in June 2018, it might come as a surprise to many businesses that they only have a short time left before the disconnection of services commences. Originally slated to commence in June 2019, Telstra have quietly extended this to 30 September 2019, but this only buys businesses an extra 3 months to transition off the technology.

What services are being killed off, and why?
ISDN is a digital network technology that carries voice and data services over the public switched telephone network. This method requires a physical connection per location, dedicated to telephony traffic. With the rise of Voice over IP solutions telephony traffic can move to more versatile data network connections, enabling versatility and redundancy not available through traditional telephony.
Spurred on by the continued roll-out of the NBN, Telstra ceased sale of ISDN2, ISDN2 Enhanced, ISDN10/20/30, DDS Fastway, Megalink and Frame Relay products from 30th June 2018, with a final disconnection date expected by 2022 which is when the products will no longer exist. The disconnection of ISDN timeline is as follows:
31st January 2018 – New ISDN services became unavailable for customers who did not already have ISDN in place.
30th June 2018 – Full cease sale on new or additional ISDN services came into effect for all customers. No new ISDN services are available.
30th September 2019 – Disconnection will commence for existing ISDN connections
By 2022 – All ISDN connections will be disconnected and the full network will be decommissioned.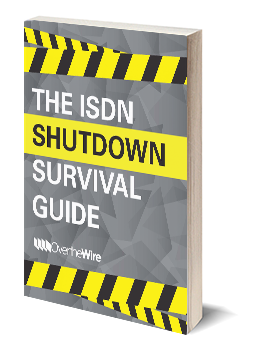 How to survive the ISDN Shutdown
Preparation is key to surviving the ISDN shutdown without having your phones cut off. We've compiled an ISDN Shutdown Survival Guide to help businesses stay ahead.
This guide includes how to find out if your phone line is ISDN, an overview of the ISDN shutdown, what's after ISDN, and how to deploy an IP telephony solution for your business.
To find out more, download the Survival Guide or reach out to a member of the Over the Wire team today.