Your modern day voice and data service enabler. Take back control. Quote, order, provision and maintain from a single autonomous platform.
NETSIP provides scalable partnering options designed for modern managed service providers and telco operators alike.
Dealer
A low-touch commission driven revenue stream to complement your existing service offerings. Perfect for partners looking for a co-branded solution bolstering off the resource and experience of a tier-1 voice carrier.


Reseller
A fully white label solution providing complete customer ownership, billing on your own brand, with your own margins, and your own terms. The ideal program for partners looking to complement their existing service offerings with out of the box voice and data products. A true turnkey option with an extremely fast time to market.

Wholesale
An entire suite of automated tools that allow you to operate as your own telco provider. A true wholesale program with complete control over your product offerings. Build your own partner network. The program of choice for partners looking to break into the telco market or seasoned veterans requiring a SaaS style service, removing the burden of infrastructure management."
Having built our voice network in conjunction with our core data network, we've been focused on providing optimum customer experience through a higher level of geographic redundancy in our network equipment, and a digital-first approach leaving us unincumbered by legacy and fixed-line phone technologies.
NetSIP is the backbone of our voice platform, with full carrier interconnects in Australia.

NetSIP is established as one of only a small number of true Tier 1 voice network operators in the country

A complete automation platform packed with low-touch tools designed to maximise additional revenue in today's highly competitive market.
Take full control of your voice and data solutions and extend your service offerings beyond basic connectivity and calling functionality.
The NETSIP difference
NETSIP have designed and developed a cutting-edge enablement platform specifically tailored for the demands of a modern service provider. It's shaped by direct feedback from our extensive partner network. We listen and engineer to give you the maximum flexibility and control, whilst maintaining unrivalled quality from our Tier 1 carrier backbone.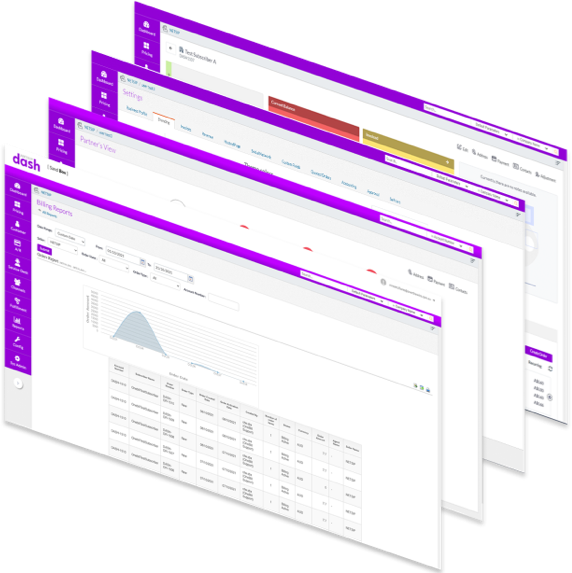 An option to suit your business
Whether you're a large call centre, an ASX 100 company, or a small business, we have the voice network and solutions to cater to your business.
VaaS
VaaS 'voice as a service' – Call termination, GEO and non-GEO numbering, portability, and inbound call collection all bundled into a single service offering. Show your current upstream aggregator the door and select Australia's newest tier one interconnected carrier. Remove unwanted network-hops for superior quality and increase control over your call routing.
HPSaaS
HPSaaS 'hosted phone system as a service' – A true multitenant PBX with zero touch provision branded under your own logo. Feature rich, endpoint agnostic, UCaaS support, user intuitive configuration GUI and Microsoft Teams ready. Do away with infrastructure headaches. Full carrier grade redundancy and supported by a dedicated partner success team. Australian-based industry experts on hand to configure, maintain and answer your PBX questions 24/7.
CaaS
CaaS 'connectivity as a service' – Instant service qualification, ordering on demand, provisioning visibility, service monitoring and live status updates. Take back control over service procurement with self-serve.
BaaS
BaaS 'billing as a service' – Ditch manual bill runs and CDR feeding. Switch to automatic invoicing with payment gateway support. Multi-tier partner billing support with commission engines and a built-in shopping cart style ordering platform. Designed and developed to cope with the requirements of a modern-day technology service provider.
Partner with the best
Over the Wire is one of the leading partners to Tier 2 voice providers, CSPs, MSPs, IT services organisations, and other businesses in Australia wanting add capabilities from our solution pillars - Cloud. Connect. Collaborate.
Get in Touch
Got a question or a piece of feedback? We'd love to hear from you.
Want to make some changes to your service? Visit our customer portal.
NetSIP Complaints Handling Process
Introduction
This is a statement regarding how we handle complaints at NetSIP. Customers have a right to complain. We aim to make our complaints handling process fair, transparent, quick, effective and free.
Our complaints process is designed to comply with:
the Telecommunication Consumer Protection Code;
the Telecommunications (Consumer Complaints Handling) Industry Standard 2018;
the Telecommunications (Consumer Complaints) Record-Keeping Rules 2018
We strongly encourage you to try and resolve issues with us using our complaints process, but you are not obligated to do so and our complaints policy in no way limits your legal rights. You are always entitled to take independent action to enforce your rights, including seeking external review from the Telecommunication Industry Ombudsman.
Responsibility for our compliance with the complaints process lies with our Chief Executive Officer.
How to lodge a complaint
Customers wishing to lodge a complaint should do so via:
For all methods of contact other than by phone, we will acknowledge having received your complaint within 2 business days. Note that any phone call will be billed at standard rates.
Preparing your complaint
We can help with formulating, lodging and progressing your complaint if requested.
You may also appoint an Authorised Representative or Advocate to complain on your behalf in accordance with our Representative Policy.
How we handle complaints
Complaints are different from ordinary support tickets; however we use similar processes to avoid confusion and allow us to track all communication and actions required. Where appropriate, you may lodge both a support ticket and a complaint in relation to the same incident. If you express dissatisfaction when lodging a support ticket, we will ask you if you wish to make a complaint.
If you make a complaint, the person with whom you make contact will identify themselves to you. They will try their best to resolve your complaint "on the spot", although this may not always be possible (for example because records need to be reviewed, or enquiries must be made with another staff member).
When you contact NetSIP to make a complaint, we will initiate a ticket to track your complaint and give you the reference number for that ticket.
Where NetSIP are unable to resolve a complaint during first contact, we respond to complaints according to the following scheduled milestones:
Initial response to complaint: 2 business days
Agreement upon resolution strategy between customer and NetSIP: 15 business days
Resolution of complaint: 10 business days
Please note that business days for the purpose of this document are Monday to Friday and do not include National or Queensland State Public Holidays.
Exceptions
In extreme cases, where a resolution isn't possible within the above timeframe, we'll advise you of the expected timeframe for a resolution (where possible) and the reasons why the resolution has been delayed as well as your options for external dispute resolution.
Once you have agreed to the proposed resolution we will take steps to implement the agreed resolution within 10 days, unless you agree otherwise, or you have not done something that we require you to do in order to proceed with implementing the agreed resolution.
How we review complaints
To ensure that we are dealing with complaints appropriately, we make records when we receive a complaint. We regularly review these records internally to ensure that outcomes are satisfactory and identify any recurring or emerging issues which require special attention.
Review by senior staff
If you are dissatisfied with the way in which your complaint is handled, in the first instance you may request that the person attending to your complaint escalate the complaint to their manager for review.
Urgent complaints
If your complaint is urgent, for example because you are in financial hardship and the subject matter of the complaint substantially contributes to or aggravates the financial hardship, or disconnection of your service is imminent, you should notify the person handling your complaint so that the resolution of your complaint can be prioritised.
If your complaint is an urgent complaint we will endeavour to propose a resolution for your complaint within 2 working days or advise you of the expected timeframe and any options for external review if we cannot propose a resolution within 2 working days.
External options
We believe that our internal complaint resolution is the quickest, most effective way to resolve complaints. If, however, you are not satisfied with our review of your complaint, or the way we have handled it, you may request review from the Telecommunications Industry Ombudsman (TIO).
The TIO is a free and independent way to seek external review of how we have handled your complaint and the act of seeking assistance from the TIO will not affect delivery of NetSIP services to you.
However, the TIO will generally not review a complaint unless you have made a genuine attempt to resolve the matter with us prior to contacting them. This means you will need to speak with us to attempt to resolve your complaint, but you do not need to go all the way through our internal complaints process prior to contacting the TIO.
You can contact the TIO as follows:
Phone: 1800 062 058
Fax: 1800 630 614
Online: www.tio.com.au
NetSIP Financial Hardship Policy
Introduction
NetSIP understands that sometimes customers experience financial difficulties and we are here to help. We are committed to supporting our customers work through such financial difficulties, understanding the importance of maintaining telecommunications services through such times. Should you need our help in this regard, we will work with you on a case by case basis to find a sustainable solution, depending on the customer's individual circumstances.
What is financial hardship?
Financial hardship occurs where a customer cannot meet their financial obligations under their contract due to illness, unemployment or another reasonable cause and the customer believes they would be able to meet those obligations over time if certain circumstances surrounding the service were changed, for example if a post-paid account were to become a pre-paid account or a long term payment plan were established.
Eligibility
We deal with financial hardship on a case by case basis but as a general rule financial hardship will not be available to business customers. There may be exceptions to this, for example sole-traders or other small-businesses which are genuinely unable to operate without the ongoing participation of a single person. In such situations we will assess whether financial hardship may be available by reference to the individual circumstances of the applicant.
What a financial hardship arrangement can change
If you successfully apply for financial hardship, NetSIP will negotiate with you to reach an agreement on arrangements more suitable to your circumstances.
It is a fundamental principle of any hardship arrangement that the repayment should be sufficient to cover both expected future use of the service at an appropriate level, and reduce the level of the applicant's debt over time. Crucially, the agreement should ensure that further purchases from NetSIP do not cause the applicant to go into further debt, or substantially contribute to a worsening of the applicant's financial position. To this end, while the financial hardship arrangement is in place, we will not sell debts, report hardship customers to credit agencies or suspend or disconnect the services of hardship customer due to debt.
Depending on your circumstances, we can offer the following options for keeping your services connected:
Spend controls;
Restriction of service, in respect of overall or specific services;
Low cost interim options until the Customer can continue with original payments./li>
In some cases, we may be able to offer one or more of the following financial arrangements:
Temporarily postponing or deferring payments;
Agreeing on an alternative arrangement, plan, or contract;
Discounting or waiving of debt;
Waiving late payment fees;
Waiving cancellation fees; or
Incentives for making payments.
Ideally, we strive to develop arrangements that will allow applicants to return to purchasing services on an ordinary basis as soon as possible.
How to make an application
If you think you may be eligible for and benefit from a financial hardship arrangement, or you would like to know more, we encourage you to contact our accounts team at accounts@netsip.com.au or by calling 1300 NET SIP and asking for accounts.
In assessing your application for hardship we will take into account
Your billing history
The nature of the services you're purchasing
The reason you are making the request
Any evidence you have provided demonstrating that the reason you have given for your request is a genuine reason
We may also request other information about and evidence of your financial position and circumstances. Without this information we may be unable to assess your eligibility for financial hardship. Once we have received the information, we will advise you within 7 days of your eligibility for assistance. When we reach an agreement we will put that in writing. You must inform us if your circumstances either improve or deteriorate during the agreement. The provision of false information is grounds to end any financial hardship arrangement.
Financial Counsellors
You can talk to a financial counsellor from anywhere in Australia by ringing 1800 007 007 between 9:30AM and 4:30PM Monday to Friday. This free-call will connect you to the nearest financial counsellor in your state or territory; alternatively you can find counsellors near you and get more information on financial counselling by visiting www.moneysmart.gov.au/managing-your-money/managing-debts/financial-counselling
If you wish to review a decision made in relation to an application for Financial Hardship, please see our Complaints Handling Policy.
NetSIP Spend Management Tools
NetSIP provides customers with a variety of ways to assist in the management of their spending.
Customers wishing to ensure that they do not exceed their monthly budget are free to set up prepaid accounts.
Customers can access real time call usage data via the customer portal.
Customers can request to use a pre-agreed monthly spend limit by contacting a NetSIP representative at sales@netsip.com.au.
Customers can organise call barring to nominated countries by contacting a NetSIP representative at sales@netsip.com.au.
NetSIP Security Information
NetSIP takes account security very seriously and realises that even with the best of intentions there is the possibility of fraud through customers equipment or account details.
With this in mind, NetSIP has several security tools available to assist in stopping and limiting the damage caused by compromised systems. Below is a list of the security measures we routinely implement:
Real-time Credit Limiting
International Destination Dialling (Limits international countries your account can dial)
International call limits (Limits the number of international calls your account can make)
Country of origin limits (Limits the country of origin that can access your account)
These tools are setup with default and reasonable values on all NetSIP accounts, however if you do wish to change the settings of any of these please contact NetSIP by lodging a support ticket and our staff will assist with the changes required. There is no cost for changing security settings on your NetSIP account.
General Security Procedures you can take to secure your own equipment
Ensure your network security software is up to date
Use complex passwords for your router and change them regularly
Ensure you have anti-virus and anti-malware installed on your computers
Protect your site with a firewall
Minimise access to your PBX
Never place your device in a De-Militarised Zone (DMZ) of your router
Keep an eye on call logs for any strange patterns in calls or calls to strange destinations
Never give out sensitive information such as usernames and passwords
Stay informed about developments and improvements in VOIP security options
Scam Calls
What is a scam call?
Scam calls are fraudulent calls that attempt to steal money or personal information. The scam calls may be a call from a real person or a recorded message.
For more information on types of scams, see the ACCC's Scamwatch website.
Signs a call might be a scam
the call rings for a short time or ends the call shortly after you answer in order to prompt you to call back;
the call suggests you have unclaimed winnings or money, or presents another offer that sounds too good to be true;
the caller asks for personal information, PIN code or passwords;
the caller presents as a bank, utility supplier, government office or other institution that you are likely to trust, and requests personal information or money;
the call makes you feel a sense of urgency to action;
the caller asks to access your computer;
the caller asks you to pay an amount using gift cards.
What You can do to reduce your risk
protecting your personal information and do not share it with unknown or unsolicited callers;
contact your financial institution immediately if you believe you may have lost money to a scammer;
change default PINs and passwords on newly acquired equipment;
select strong PINS and passwords (e.g. Not "1234" or "0000" or "password" etc.);
lock mobile handsets with secure PINs;
ensure that voicemail PINs are secure;
disable PABX ports and features that are not used (e.g. remote call-forwarding);
change PINs and passwords regularly;
do not respond to missed calls or SMS from unknown International Numbers, unknown Australian numbers or an unknown source;
block suspicious or unknown domestic or International Numbers on mobile handsets and use of Blocking services or products, where available, on landlines;
allow unknown calls to go to voicemail and then listen to any message left before deciding whether to return the call in order to ascertain if the call was genuine.
How We can help
You can monitor your call usage in real time and view previous invoices to identify any suspicious charges;
If you think your account has been compromised or are concerned about the volume of scam calls you receive, please contact us.
What to do if you think you receive a scam call
Hang up the call;
Do not call back a missed call from an unrecognised number;
Check the ACCC's Scamwatch website for known scams, or to report the scam you received.
Archived Critical Information Summaries