Over the Wire and Telarus have received the Innovating for Excellence Award from Optus for our work around Private 4G networks. Michael Omeros (Managing Director) and John Puttick (Chairman) attended the event in Sydney, which was presented in front of many of Optus' wholesale clients.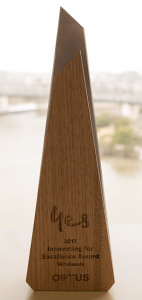 The work involved in developing these Private Mobile Data capabilities evolved over several years, requiring significant input from Optus as the mobile carrier, hardware vendors, and staff – with special thanks to Jason Bednar and Robert Grace from the Telarus team for their efforts. Their work has culminated in the Private Mobile Data offering we now have available, along with the creation of a low-cost private network failover option for our MPLS clients. We believe this will have a significant positive impact on the data network market through the addition of a path-redundant, low cost, private network backup service.
If you'd like to know more about how you can implement automatic failover to a Private Mobile Broadband service on your existing data network or Internet connections, speak with our team today.